Download Project Profile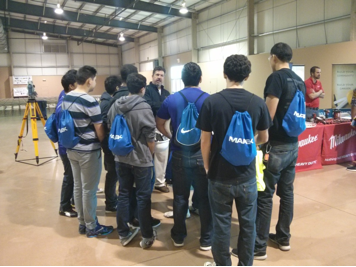 It amazes me to think how far technology in the construction industry has come over the past 25 or so years. I can remember being a spry, young bright-eyed high school drafting/wood shop student sitting at a drafting table lining up my paper with a t-square and a triangle. Fast forward to the present, and I'm certain high school kids have NO idea what a t-square is, or where to find Staedtler Mars in our solar system. I know! I'm just trying to make a point. It really has come that far.
The reason I bring this up? For the second year, thanks to Stacy Gunderson and her awesome team, I had the dubious honor of representing Marek at the annual San Antonio ISD Construction Career Day. Where, some 700+ San Antonio ISD students, currently enrolled in some type of high school AEC class, were given the opportunity to learn about the latest technology in our industry. And this was definitely NOT your mother's same old career day! The career day included an interactive welding simulator, an interactive crane operator, a construction putt-putt golf course, a job-site camera drone, and a team construction build competition. Did I mention the robot and the 3-D virtual construction and design demonstration? Both provided courtesy of Marek and its industry leading WFD and CE/BIM departments. OK, now I'm just bragging. 
What a great venue to show these students that a career in construction is NOT a lesser endeavor, but a technology-rich pursuit with many avenues of opportunity. And its experiences like this that make me believe that 'we', as an industry, are beginning to understand how a collaborative and information enriched environment benefits everyone involved, even our future collaborators. So, as Dr. Eldin would say, "Nothing will work, unless you do."