Download Project Profile
Houston, TX – Associated Builders & Contractors (ABC) of Greater Houston and Construction and Maintenance Education Foundation (CMEF) named its 2016 officers and board members at the annual inaugural celebration at Marek Brothers Systems, Inc. on Wednesday, January 20, 2016. ABC elected five officers and 28 board members from greater Houston's industrial and commercial construction industry, as well as suppliers and associates to the building and construction trades.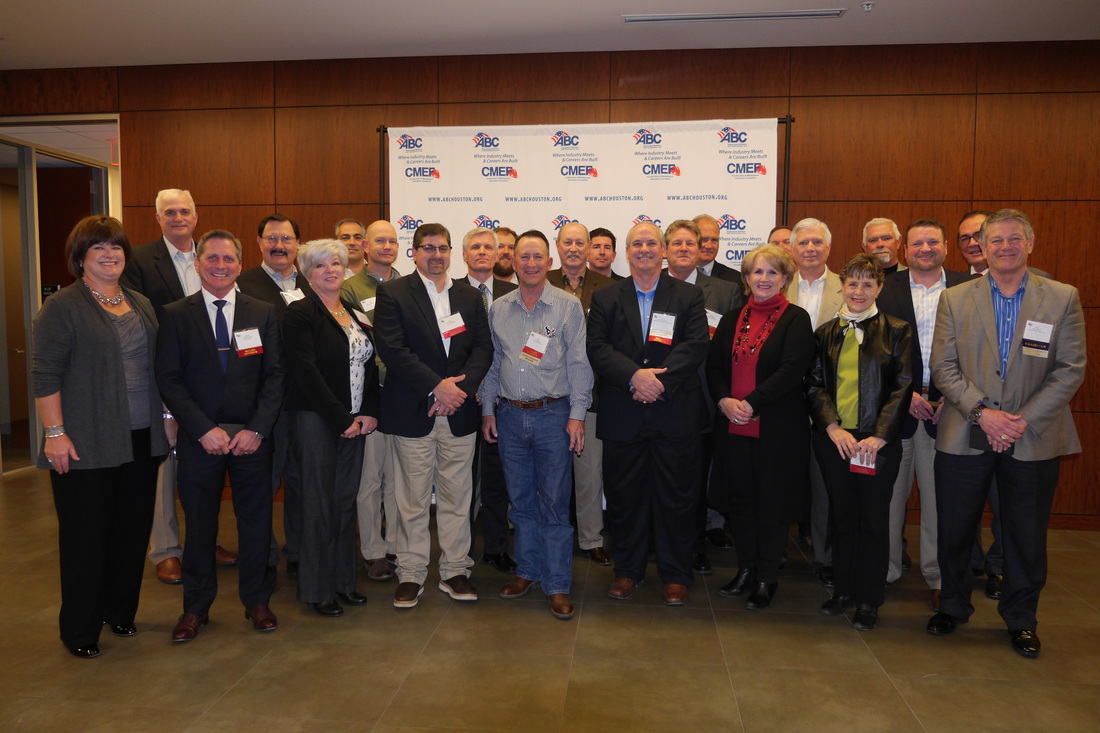 Mike Holland of Marek Brothers Systems, Inc. was elected 2016 chairman of the board; Warren Adamson of S&B Engineers and Constructors was elected chair elect; Robert Burlesmith of E.E. Reed Construction, L.P. was elected Vice Chairman; Brandon Mable with Performance Contractors, Inc. elected Secretary; and Todd Fry of Karsten Interior Services elected Treasurer.
"I'm honored to continue the great work that is happening at ABC Greater Houston," Mike Holland, ABC Chairman, said. "I'm passionate about working with my fellow board members and ABC members to produce solutions for the workforce development issues our industry is facing."
Holland praised 2015 Chairman Darlene East of Holes Incorporated for her work with ABC and the tremendous amount of growth the association saw during the 2015 year. He challenged the board and general membership to get actively involved to continue ABC Greater Houston's success that has established ABC Greater Houston as the leading commercial and industrial construction organization.
Other elected board members include: Brian Anderson, G.R. Birdwell Construction; Rusty Barnhill, Force Corporation; Leonard Bedell, Mobil Steel International; Kerry Bennett, ISC Constructors, LLC; Sam Craig, Craig & Heidt Inc.; Matt Daniel, BE&K Building Group; Matt Elliot, SpawGlass Construction Corporation; Laura Price Gautreau, Polk Mechanical; Dinesh Ghia, Gilbane Building Company; John Golashesky, Turner Industries Group LLC; John Marshall, Satterfield & Pontikes Construction Inc.; David McClesky, Brown & Root Industrial Services Inc; Rhonda Mitchell, Aggregate Technologies Inc.; Rod Molyneau, Brock Services LTD.; Phillip Morgan, CB&I; Rodney Page, Ref-Chem L.P.; Tim Ricketts, HSG Constructors LLC; Wendell Rychlik, W.T. Byler Company; William Sanchez, Oxford Builders Inc.; Christina Stone, Stone & Stone; Phil Restivo, Turner Construction; Mark Williams, Bechtel Construction Services; Ben Westcott, Andrew Myers; Darlene East, Holes Incorporated; and Lohn Zylicz; D.E. Harvey Builders.
About Associated Builders and Contractors of Greater Houston Chapter
ABC Greater Houston is a chapter of the Associated Builders and Contractors, Inc., a national association that protects free market enterprise and business freedoms of commercial and industrial contractors. ABC offers member training, education and networking. Additionally, ABC and its members support good government and fair and reasonable regulation through active participation in local, state and federal legislation.