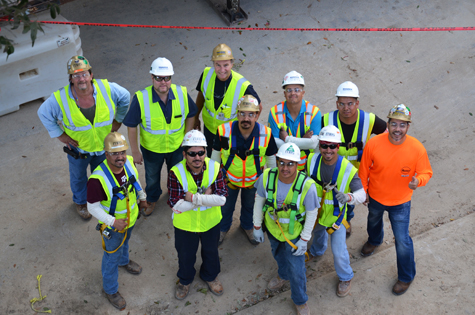 Foreman Luis Espitia is leading our crew on the remodel of the Annunciation Greek Orthodox Cathedral in Houston with General Contractor Satterfield and Pontikes. MAREK's turnkey contract includes framing, sheathing, roof trusses, rough carpentry, and thermal insulation, along with drywall, paint, acoustical plaster, and ceilings.
The dome represents perfection, eternity, and heavens while the square support structure symbolizes Earth. Perfection is what was required from Luis as the staging location for the dome consisted of two lane closures and a dance floor with scaffolding spanning from curb to curb. The dome structure included thirty-two trusses from Cascade Manufacturing and two trailer truck loads of prefabricated curved members from Radiustrack. The efforts of both vendors and MAREK took six months of design and engineering, three months of shop fabrication, five weeks of field assembly, and a day of lift time.
On November 18, 2017 the 47' dome weighing 138,000lbs was lifted and placed on top of the roof structure, changing the Montrose skyline. TNT Crane and Rigging was part of the MAREK team to help with the complex hoist criteria along with cramped site conditions. TNT squeezed their Liebherr 625 ton crane into our designated location and assembled twelve trailer truck loads of equipment to prepare for the next day hoisting celebration. With crossed fingers on the weather, more than one thousand church patrons gathered at the site with anticipation, while the iconic feature was hoisted and aligned with ease.
During the Thanksgiving and Christmas break, the existing building was selectively demolished, and underground utilities installed in preparation for the exterior walls and interior scope. Luis will begin on the ornate interior pendentive starting in February followed by our paint and acoustical plaster scope, making this another MAREK success.