Download Project Profile
Students from Booker T. Washington High School got the construction low down during the Introduction to Construction event presented by Marek in November. At Marek, we take pride in our employees and the future of our workforce. In order to continue to educate the future of the workforce, we partner with school districts to promote workforce development and careers within the construction industry.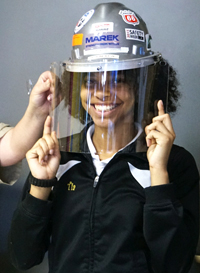 Recently, a partnership was developed with Booker T. Washington High School and the Architecture and Construction Academy, led by Jeremy Huckeba. In the summer of 2015, teachers and leadership staff alike participated in an externship to learn more about the abundance of opportunities available in the world of construction. Staff members were offered insight into the construction industry by speaking with project managers and estimators and then concluded with a field trip to a construction site.
On November 19th and 20th, students in the Architecture and Construction Academy attended the Introduction to Construction event with a team of Marek professionals. During each session, students discussed topics such as careers, special tools, safety and Building Information Modeling. The students were excited and eager to learn about all of the opportunities that are available right around the corner from their school. Above all, students wanted to know, "What will I make?" The answer to this question relies on how motivated the student is to achieve personal success. We worked hard to instill in their minds that success can be achieved through determination and motivation. Buddy Britt, WFD Training Coordinator, told the students, "If you want it and you try hard enough, anything is possible."
The goal of this partnership is to build a lasting partnership and to provide students with a construction foundation. In February, Marek will partner with Booker T. Washington to host a framing and drywall clinic. Students will receive hands-on training, and their completed project will be on display for others to view.
We believe this is just the beginning of a lasting and meaningful partnership. The hope is that students from this academy will find interest in construction and a career path that will work for them.