Download Project Profile
Authored by Elizabeth McPherson and originally published on ConstructionCitizen.com.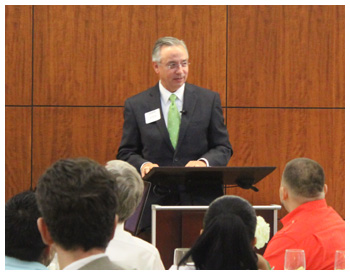 I recently wrote about a graduation ceremony honoring several who had advanced within Marek's workforce development program.  Part of the program included some remarks from Marek COO and Division President Mike Holland.  In talking about the importance of developing a quality, skilled workforce, Holland said "Workforce is our product."  Holland then introduced the keynote speaker of the evening, John Roberts, Executive Vice President for Jones Lang LaSalle with the following:

"John's roots in construction began like many of us at a jobsite, so he knows what drives our business.  He has been an active participant in the Construction Career Collaborative; he is on our Board.  He has used his influence in the industry to bring on other contractors to talk to many of our workforce professional partners, continuing to further this conversation.  As a contractor, he is a really practical guy, like a lot of builders, but he is a guy with vision."

Roberts began his remarks by stating that he has long been passionate about labor and workforce development.  He has always believed that companies need to do more to develop the skilled workforce and create career paths which will attract young people into the construction industry.  He said that a career in construction can mean more than just work.  He said:

"When you stay at a firm long enough, it becomes your family.  You become a part of it, and it becomes a part of you.  People care for each other, and it all grows on itself.  Providing career paths and advancement for people to spend long term careers with a company are important to the vitality of our industry."


Since beginning his career in 1970, Roberts has seen many advance from helper to mechanic to foreman to superintendent, some even moving into project management and leadership.  He has seen the advantage and benefit of having that career path and being able to have goals to work toward.  He then went on to speak about the skilled workforce shortage in the United States.  He said:

"Today we have a national shortage of skilled labor.  It is not just here in Houston, it is everywhere in the country.  We need more emphasis in growing our labor pool, because today we are short, and the future is grim if we don't continue to grow our labor force.  You might not know that [today] there are fewer unemployed construction workers in the United States since 2001.  That's fourteen years that we are below what the unemployment was in 2001.  You'd also probably be surprised to learn that last month, in June, according to national labor statistics that there were more average hours worked during the month of June than any month since they started recording in 1947.  That's the highest average hourly work by a craft worker in the United States since it was recorded in 1947.  What that speaks to is that the body of labor that is required doesn't exist.  We must all promote business and employer emphasis in developing workforce.  This fuels our industry, and it provides a career path for those who would enter our industry."

Roberts praised Marek for leading the industry in training, in safety, and in workforce development.  He talked about their commitment to quality in the workforce, quality in their business model, quality in their workmanship, and a genuine focus on safety placing them top in their field.  He commended the workforce development program being celebrated that evening.  He said:

"How great is it to recognize the participants today.  I congratulate all of you and your families for this great accomplishment.  You can truly be proud of what you have done.  You have met the goals for completion of your training, and you have advanced in your careers.  For the coaches and the workforce staff, you gave your time and your experience so that others could benefit.  We can all give back.  Without your goals and career vision, this road for the skilled worker would end."


Roberts talked about the growing emphasis in workforce development going on in Houston today.  He mentioned trade organizations, educational groups, and government entities, citing Houston Community College, Lone Star College, the Greater Houston Partnership, Houston Works, the Harris County Department of Adult Education, and others.  He noted that the Houston Independent School District "is creating outreach programs that will align students with opportunities to learn after school.  Back in the day, those were called 'Shop' or 'Tech' where one could take those courses in school and learn skills right there in conjunction with high school.  Hopefully those programs are coming back – we truly need the high schools to buy in to workforce training."

Roberts talked about the Construction Career Collaborative (C3) which he is involved with.  He said:

"The Construction Career Collaborative is an industry initiative with the support of AGC, ABC, owners, contractors, subcontractors, and trade groups.  Our mission is basically three things.  Hourly paid wage to move away from this misclassification of workers; craft training that our participants would buy into and create programs such as this one at Marek that would train people; and OSHA training – safety training creating safe environments for the workers.  Owners, contractors and subcontractors are joining C3 to make Houston a model for creating careers in our industry.  [Marek's] workforce development program and the ongoing efforts of the company are a model for the vision of C3 in Houston."

Roberts concluded with some challenges for the graduates:

"I have some challenges for you.  I challenge you to continue to set goals and to achieve those goals.  Our industry needs you to grow in your experiences and to advance in your careers.  As Mike [Holland] said, this is the fuel that keeps us in business.  It is said that if you are not moving forward, you are moving backward.  The reason for that is that if you are not moving forward, someone is likely passing you by.  Keep learning and growing.


"I also challenge you to lead where you are.  Set positive examples in integrity and work ethic.  These traits translate not only to a positive work environment, but they make a difference at home and in your family.  These are things that you hand down to your children, that they see in who you are.  It is important, because as your family grows at home, your family grows at work as well.

"I challenge you to be an ambassador for the industry everywhere you go.  Show the pride you have in your career, share it with others, and promote our industry.  We need young men and women to see our industry as a career.  We also need business and industry to continue to do their part to advance the workforce, to train the workforce, to grow their respective trades through craft training, and to promote men and women when it is their time.  All of this will bring young women and men into our industry.

"I challenge you to continue to promote safety in the workplace.  Safety is not simply a program, it is a lifestyle.  Our industry has made great strides in advancements towards safety training as a culture, but we can always do more.  Be a champion for safety everywhere you are.

"I challenge you to give back to the industry and to your communities.  Everyone has something to give that can benefit those in need.  Giving back to your community grows you as a leader, and it also reinforces the value that others see in helping others.  Giving back makes our city and our county stronger – a greater place to raise our families and a greater place to live.

"Last, I challenge you to grow personally.  Establish faith in your life.  Be there for your family and focus on being the best you can be in everything you do.  I want you to join me in making the construction industry be a top place for growth for Houston."

You can hear some of his speech in the 5-minute video below.