Download Project Profile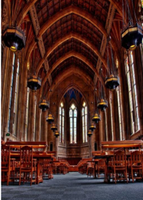 Attached are two articles from our resource library that will be good to distribute to your estimators (or set on the shelf in the restroom next to the air freshener).
The first is the transformation of interior plaster and wood lath to studs and drywall in 1920
This also covers the introduction of metal lath into the industry in 1884 but not widely used as we know it until 1913.
This brought on the need for the "Bureau of Standards" (ASTM as it is called today), in 1914 to develop an installation guideline. However this was primarily for ceilings. (And why the confusion still exists about cutting the lath behind control joints.)
Then the second attachment is of the history of metal stud framing.
Metal stud framing in the commercial world began its use in 1925 in Lynchburg, Virginia on the Virginia Baptist Hospital the commercial world.

It gained its popularity at the 1933 World's fair in Chicago where the first metal stud framed home was built as the "home of the future". This was more popular than metal studs in the commercial world

AISI developed a standard for metal studs in 1940.
​Photo credit: Technical Information Services Bureau