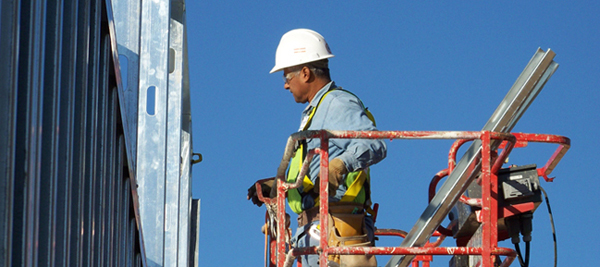 SAFETY AND WELLNESS
At Marek we recognize the direct connection between safety and wellness .As part of our values we are dedicated to our people and provide extensive training and opportunities to improve their safety and wellness on a daily basis. Safety and wellness means investing in our most valuable asset, our employees.
Safety Training
Required of all new Marek employees, this state-of-the-art course provides a detailed overview of Marek's above standard protocol for safe operations and safe work practices. Course topics include:
Basic Safety Orientation

Fall Protection

Company History

Ladder Safety

Commitment to Safety

Scaffold Safety

Marek Policies

Stretch and Flex/Body Mechanics

Hazardous Communication (HAZCOM)

Equipment Training

Hand and Power Tools

Elevated Work Platforms

Electrical

Power Industrial Trucks

Material Handling

Powder Actuated Tools

Accident Prevention

Stilt Certification

War on Falls
In addition to Marek's Basic Safety Orientation, all new employees will be provided with Personal Protection Equipment.
If you are a Marek employee and have not attended this orientation or if you need information on your location schedule, contact the Safety Manager in your area. You may also contact Jorge Vazquez, the corporate Safety Manager, for class schedules.
Wellness Program
Our Wellness program is designed to educate employees about a variety of health-related topics and give them access to resources to achieve a healthy lifestyle. The program focuses on promoting good health to reduce absenteeism, improve employee morale and productivity, and improve employee retention.
Program Components:
Health education focused on lifestyle behavior change and awareness, tailored to employees' interests and needs.
Linkage to related programs like Employee Assistance Programs (EAPs)
Monthly newsletters with educational material
Wellness presentations given by local doctors to teach how to lead a healthier life both at home and work
RELATED BLOG POSTS
Jorge Vazquez on Apr 22, 2021

We have talked about eye protection many times in the past. There is no question how fragile our eyes are and how important it is to protect them. We all know when to wear eye protection on the job…
Jorge Vazquez on Apr 15, 2021

Scaffolding hazards continue to rank high on the list of the most frequently cited standards in construction. They also account for approximately 9 percent of all fatalities at construction…
Jorge Vazquez on Apr 7, 2021

Notice to supervisors: If you are not using stilts on your job, make sure you mention the War on Falls for ladders, lifts, scaffolds, guardrails, and holes. Make sure you also mention…