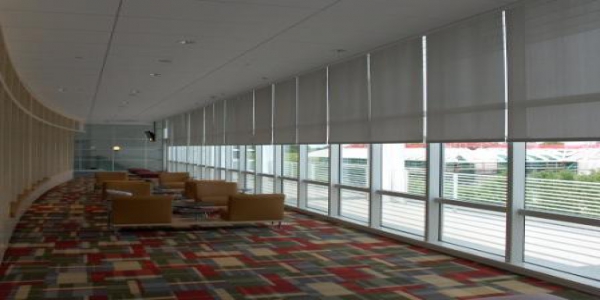 Are the occupants of your office space visually and physically comfortable? Are they given the opportunity to embrace natural light and views to the outside world throughout their work day?
The recommended light level to perform office tasks is 500 lumens, the sun produces in excess of 10,000 lumens on a clear sunny day. With a continual emphasis on motivating workforces, increasing productivity, retaining quality personnel, impressing existing and prospective customers; business owners and managers must focus on enhancing the aesthetics and comfort of the common workplace.
Historically, more consideration has been placed on engineering lighting controls and mechanical systems to meet the requirements of designed space and optimize energy efficiency. Utilizing solar shade systems gives the ability to reduce solar heat gain, eliminate uncomfortable glare/reflection, and decrease the reliance on artificial light while maintaining a view to the outside.
Few products in the window treatment industry possess the qualities needed to meet these requirements, and there are even fewer companies equipped with the expertise and product knowledge to assist you in your next project.
After establishing a strategic relationship with Mechoshade Systems, Inc in 2006, MAREK has quickly become a leader in providing and installing window shading systems. MAREK's window shade department provides design and engineering consulting for: manual shade systems, motorized shade systems, shade control integration, and building automation. We deliver a custom product to suit the needs of any project, educate our customers, and stand behind our workmanship.