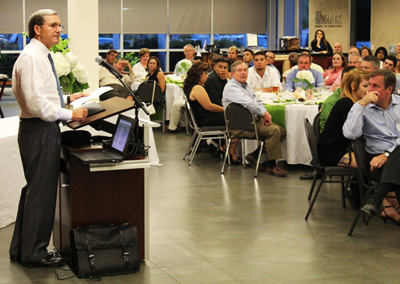 Marek held a Graduation and Recognition Dinner for Helper and Mechanic Graduates, newly promoted Foremen, and Coaches July 23rd. In attendance were Marek Management, Workforce Development Staff, Industry Representatives, Training Partners, and Honorees with their guests.
Twenty-one Graduating Helpers, with the help of their outstanding Coaches, had to complete a program that included 41 hours of lab activities, 309 hours of structured on-the-job training, 1730 hours of practice time, and a lot of hard work.
Eight Graduating Mechanics had to complete an eighteen month program that included lab and classroom activities that covered the Basic Safety Refresher, Economics of the Job, Basic Math, and Basic Construction Drawings & Layout. During the on-the-job training portion of this program, they were mentored in production and safety. Finally, they were required to successfully sit for the NCCER Drywall Assessment and receive the status of Knowledge Verified.
Eighteen newly promoted Foremen were recognized for completing a rigorous program that included Frontline Supervisor Training, Maintaining Construction Drawings & Documents, Safety/OSHA/ Incident Investigation, Personnel & Performance Evaluation, and Maintaining Successful Customer Relationship.
The Keynote Speaker was James P. Hennessy (Project Executive, Houston Campus Project, Global Services Company). He highlighted the development of the new Exxon Mobil campus that many of Marek employees are involved with.
It was a wonderful evening, and we are very proud of our graduates and all they've accomplished.
[[{"fid":"1268","view_mode":"default","fields":{"format":"default","field_file_image_alt_text[und][0][value]":"","field_file_image_title_text[und][0][value]":"","field_image_tags[und]":""},"type":"media","attributes":{"class":"media-element file-default"}}]]