Printer-friendly version
Download Project Profile
The following article was authored by Elizabeth McPherson and originally published on Construction Citizen.
On July 12, MAREK held their 2017 Workforce Development Graduation, an annual event where the advancements of MAREK employees are recognized and celebrated with a dinner, remarks from company trainers and executives, and a keynote speaker from an industry leader.  Prior to the ceremony in which each graduating helper, mechanic, and promoted foreman was recognized with their coaches before friends and family, I had the opportunity to speak with five of the craft professionals who were being honored as graduating helpers.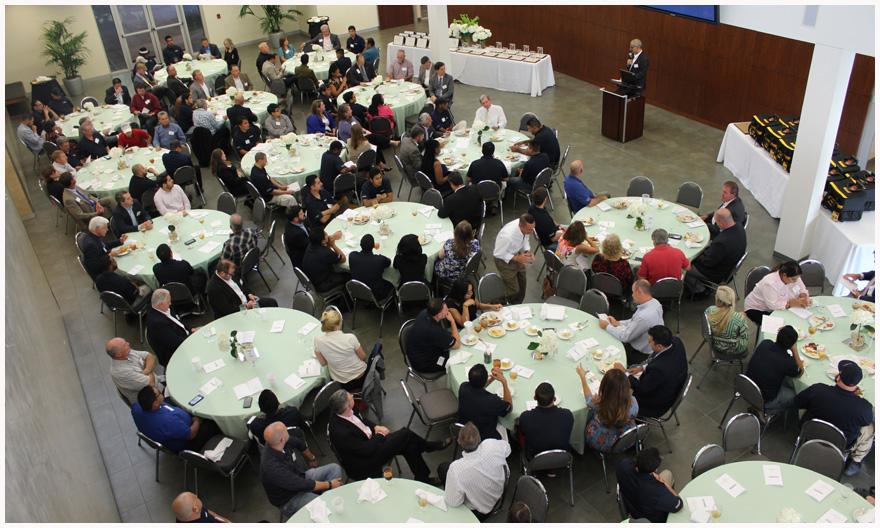 MAREK Helper Trainees spend their first year working full-time in the field with a MAREK Certified Coach.  To become a helper graduate, the trainee must become proficient in 31 skill modules, including safety modules, the proper use of equipment, and classroom training in economics and math.

One of the people graduating from Helper to Mechanic was Kimberly Villatoro, a finisher at MAREK.  Her father, Magdaleno Villatoro who has been with the company for 25 years, was her coach during her training.  I asked what part of her job gave her the most satisfaction. She answered, "Hands-on, tape and float - it's fun, it is like crafting.  Basically, you are into the job until it is time to go. … You are busy; you keep your mind focused."  Kimberly hopes to advance her career and become a foreman at MAREK one day.

Gabriel Peña, another graduating
helper, explained that to achieve this he had to fulfill a list of requirements to move up from basic trainee.  He said, "You work with a coach, and they teach you the skills you need in the trade.  You figure everything out."  Peña worked for two other construction companies before coming to MAREK about eight months ago.  He said that it looks like his career is going in the right direction.  When I asked him what he enjoyed most about his job, he answered:

"I like seeing something built from the ground up.  To see concrete turn into a sellable product.  Just based on some drawings an engineer and architect give you, you make it really happen.  It's kind of amazing, in a way."

Peña was aware of construction career opportunities while growing up.  His father is a foreman at another construction company, and his grandfather worked for MAREK.  "It's kind of like a family thing," Peña said.  He said his goal is to keep going toward a foreman position.  In addition to work, he is currently going to school at the University of Houston studying Construction Management, and he is also working toward a Project Management Certification.  He said, "Being able to know the job inside and out will be beneficial to me in the future."

Keith McCray completed
his helper trainee requirements doing drywall, and is now doing layout.  McCray's brother is a welder, and McCray himself started in construction as a welder.  He also worked as a pipefitter before coming to MAREK and learning carpentry.  All of his training has been on-the-job.  He learned about the opportunities at MAREK through SER – Jobs for Progress, a non-profit organization that helps individuals find employment through education, training, and job placement services.  Following a long interview process which included interviews at both SER and at MAREK, McCray was one of six applicants chosen by MAREK to enter their workforce development program last year.  McCray told me that he finds construction work very interesting.  He said:

"It keeps you guessing.  Everything is different.  There is always something new.  Whether it is building a wall, building a law firm, or building your local Pizza Hut – I never did that, but just for an example – it is different.  It captures your attention every time, and it gives you a sense of accomplishment because you know that people are going to walk in there and eat there or work there … or live there."

Jose Turcios w
orks in the drywall department doing framing and drywall hanging.  He said his favorite part of the work was "Starting something from zero, and [watching] it being built – you see it, and all of the rooms are ready to be occupied.  That's one of the cool things."  Turcios is the first person in his family to enter the construction workforce.  He is a Construction Management student at the University of Houston, and he wanted to learn more about the field by "starting from scratch."  In fact, he chose to study Construction Management because he wanted to learn how to build something from scratch.  He explained, "If you like building stuff, Construction Management is actually one of the things you should do."  He said that he enjoys video games in which he can build things.

Turcios is now an intern at MAREK and is learning about budgets and pricing.  This is giving him knowledge about office work in construction to go with his knowledge of work in the field.  He hopes to become a Foreman or a Project Manager one day, where all of this knowledge will be useful.  He says that not all of his friends from school are learning all of these skills "from the bottom up" like he is.

During his training, his coach was Walter Orellana.  Turcios said about his coach:

"He was a pretty good influence in pushing me forward.  There were some times that I wanted to quit because it was hard.  Just the environment – being in the heat and then something not being built right and you just trying and trying – it got really frustrating.  But [Orellana] would just teach me, like 'Hey, there is an easier way you can do it.'  Learning from those small things made me realize that I want to be this one day."  He said that because of the experience he had with his coach, he would continue
to help and teach others throughout his career, whether he is an official coach or not.

During his first year at MAREK, Martin Ramirez built walls, installed acoustical ceilings, performed demolition and remodeling.  "We do a little bit of everything that has to do with building walls and the main structures of offices," he said.  He likes learning a new trade and learning how to set up walls – learning how they are made.

Like McCray, Ramirez heard about MAREK through SER – Jobs for Progress.  He applied at MAREK because he was looking for a job, and he heard that MAREK's pay rate was decent "for someone not knowing anything."  He liked the fact that MAREK offered to hire him and train him on site without any previous construction knowledge.

You can watch excerpts from these five interviews in the 4½-minute video below, and watch for an upcoming post with messages from some of the leadership who attended as well as a summary of the message from the keynote speaker, ABC National's Greg Sizemore.