Printer-friendly version
Download Project Profile
The following article was authored by Elizabeth McPherson and originally published on Construction Citizen.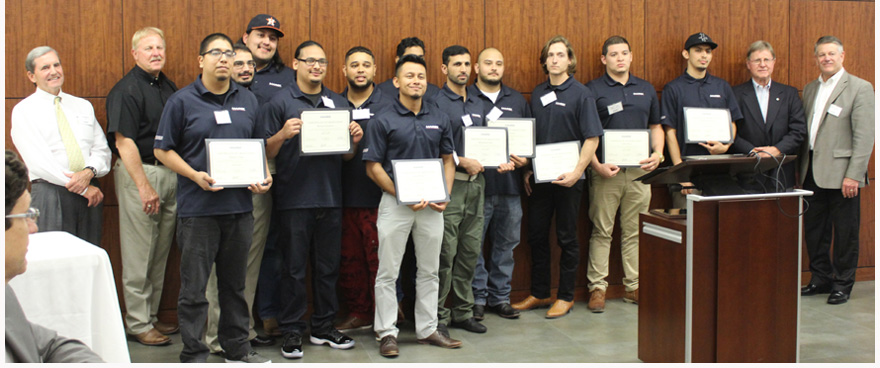 Each summer, MAREK honors and celebrates with their employees who have completed important training milestones during the previous year.  Their 2017 Workforce Development Graduation was particularly inspiring as 11 Graduating Helpers and their Coaches, 13 Graduating Mechanics, four newly promoted Foremen, four MAREK Certified Professionals, and five WFD Field Leader Champions were recognized.  For an earlier post here on Construction Citizen, I interviewed five of those just graduating from Helper to Mechanic.

After dinner had been served, the program began with a welcome by Saied Alavi, Managing Director at MAREK who explained what each graduation, promotion, or certification had required.  Alavi then introduced Jaime Ramos, MAREK Foreman and Instructor.  I spoke with Ramos last year when he was honored for being
promoted to Foreman.  This year, he was part of the program, stepping up to the podium to deliver a message to the graduates.  He spoke to the graduates as someone who had once been in their shoes.  When he came to MAREK, He had no experience in construction, but he needed a job to support his family.  He said that the best advice he could give is this:

"Whenever the company offers you something – whether it be training, overtime, classes – take it.  Sign up for it.  Use it for your advantage, guys.  The more you know, the better off you will be.  And one day, people will come up to you, and ask for your advice, for your help, because they know they can rely on you.  I tell you now, guys: don't hesitate when you have questions.  Ask.  There are a lot of people who are willing to help you, but you have to ask questions."

After Ramos finished his message, Stan Marek presented him with a framed copy of an article featuring him which appeared in the Houston Chronicle earlier this year.

Mike Holland, MAREK Chief Operating Officer, delivered some remarks before introducing the keynote speaker for the evening: Greg Sizemore, ABC National's VP of EH&S and Workforce Development.


Sizemore's address was encouraging and inspiring.  He talked about growing up in Pensacola, where he knew that he did not want to go to college (he said he was more interested in music and beaches than in school back then).  He started working in construction as a laborer, thinking that since his dad was a drill sergeant, he already knew what labor was all about.  One of the first men he worked for and admired was a man named Ted Kennedy, who taught him what it means to be a leader.

He talked about the importance of skill craft professionals and praised the graduates for being champions – telling them to always remain proud of their skills and their training.  He talked about the "huge deficit of qualified, competent people to do work.  Some conservative estimates to meet the current backlog is some 5,000 craft workers."  He said that it was only going to get worse.  "Probably within the next seven to ten years it's going to grow to 1.1 million qualified craft workers to do the work that's got to be done."  Sizemore:

"Our industry has an image problem, and you are the mantle bearers of our industry changing – of our image changing and who we are.  Way too often I hear 'Well construction is the career choice for somebody else's kid – not my kid.  My kid, well they gotta go to college.'  Well, to all the people who didn't go to college, to all the Greg Sizemores of the world who said 'more important to me [than college] is music and beaches': when I went to work construction as a laborer in 1978 (I thank God that my dad was a drill sergeant so I knew what labor was all about), let me tell you I found out what labor on a construction project was all about.  In some 30 years, the very last project that I worked in the field for Mr. Kennedy
was 11 days after Katrina hit.  My project was from Pascagoula, Mississippi to Kiln, Mississippi.  Sixty-nine miles wide and 25 miles inland.  For a guy who never went to college, never took his first scheduling class, never took his first costs or financial class – it joys me when I hear that you guys are doing OJT (on-the-job training.)  When I hear that you guys are learning every day – there's book knowledge that goes along with it – but that OJT is priceless.  You are learning and the way you are doing this and where you are going: it's about applied skills.  You've got a lot of runway ahead of you.  The challenge in our industry is 'where is the next group coming from?'  You're fixin' to move up; who's going to step up and take your place as the trainee, the next apprentice, or whatever.  It's up to you to help us change that image."

Sizemore mentioned that the graduates may have a better chance to convince someone their age about the value of a career in construction.  He said, "When I go to talk to a group of students, I look like their dad."  He said, "The reality is that every one of us has a story to tell.  Every one of us has a group to relate to.  I challenge you not just to do your job well, but to do your job to the best of your abilities."

Sizemore concluded: "Our industry needs you as bad as you need our industry.  We need you to be the disciples, because you speak a language to a generation that the old-hair, no-hair, stale, male, pale guys like me cannot communicate to a younger generation that's going to be the future.  It's not going to happen.  You guys are going to have to carry that mantle.  So the challenge is – and I'll do what I can in the political
scene in Washington D.C. – but you promise me that if you ever get the opportunity to walk into a secondary or post-secondary institution and tell your story, that you will walk in there and tell it with pride.  You promise me that when you are on the street and you are wearing your MAREK logo and somebody says 'What the heck does that mean?' – you say 'That means that I work in construction.  You see that [building] right there?  That will not fall down because a craft professional made it.  Buildings are not collapsing in Houston, Texas because a bunch of knuckleheads got together and built something.  Buildings are standing tall."

The awards presentation came next, with each helper graduate standing up beside one of their coaches and being presented with a certificate and a tool bag while family and supporters applauded.  The graduating mechanics, promoted foremen, and MAREK Certified Professionals, and WFD Field Leader Champions were also recognized.

Stan Marek, Chief Executive Officer of MAREK, then took the microphone to deliver his closing remarks.  He thanked many of the industry leaders who were in attendance for their support of the MAREK training program.  He said that his 92-year-old father wanted him to send his thanks and pride to the graduates for all that they had done.  "He is with you here tonight in spirit."  He also talked about a recent trip with his family to Italy:

"When I was traveling through Rome, and the Vatican, and seeing Saint Peter's, the Colosseum, and all of those buildings that were built 2000 years ago – I thought of one thing; I thought of you.  Because who built those buildings?  Craftsmen!  Somebody was trained; somebody had to work with these [hands] to build those enduring structures which today
millions of people visit – I think five million people are going to visit the Vatican this year, and probably the same for the Colosseum.  And they are still here.  I think the message that I want to leave with you tonight is: 'Be proud.'  Be proud of what you as craftsmen can bring to your community, to the people you live and work with.  We are building enduring buildings that will be here not for tens of years – maybe for centuries.  How long will some of these hospitals last?  And the cathedral that you did, and these beautiful buildings on the college campuses – they are going to last a long time.  And who build them?  We did; you did.  If I could take one thing out of my heart to give to you, it would be the pride that I feel in each one of you.  Pride for the dedication you have for your trade, the dedication you have to the company, and the dedication you have for each other – the teamwork I see.  I love seeing these coaches and the connection between the trainee and the coach: that is priceless.  I want to tell you thank you on behalf of all of us Mareks and the management team: we are very, very proud to be part of this.  I hope we can continue to do this every year for a long, long time.  You look around at our country and ask 'What makes a great country?'  Strong companies.  Strong companies that make a strong nation – and we are all doing our part to make this nation better.  Thank you."


I talked to Chuck Gremillion, Executive Director of the Construction Career Collaborative (C3), after the evening concluded.  When I asked what he thought of the event, Gremillion replied:

"I thought it was terrific.  Anytime that a company can recognize the people that make that company successful, and at the same time highlight the training they have received and the success that comes from that training – that's a great event."  I mentioned that training was an important part of the C3 initiative.  Gremillion said:

"It is the cornerstone; it is what C3 is all about.  Craft training, I often tell people, is the most important element that C3 brings to the table.  It provides every company that provides their craft professionals craft training the return on their investment."

You can hear all of the above remarks in the 6½ minute video recording below, and feel free to share with anyone who might consider a career in construction.