Download Project Profile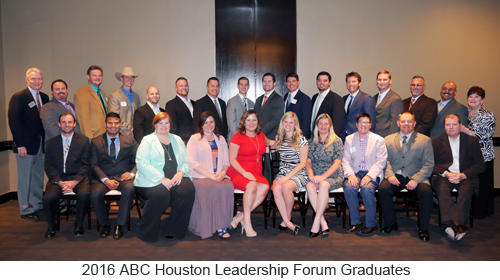 Three of Marek's Houston-based emerging leaders were honored in May at the ABC Leadership Forum Graduation. Roland Mercier, Glen Blaha and Shannon Zweifel join a number of legacy Marek program grads.
The event, hosted at the Houston City Club, honored 26 program graduates from a variety of both general and specialty contractors. Significant others and Managers joined in as well to celebrate their accomplishments.
Graduate Glen Blaha says, "The class was excellent and I appreciate the opportunities Marek offers for continued growth."
"What impresses me the most about Marek is their commitment to the development of their number one asset, their employees," shares long-time ABC Leadership Coach Linda Carter. "As part of a very competitive industry, the companies that will stand out the most into the future are those companies that understand the best way to compete proactively is the development of their upcoming leaders."
Previous program graduate, Blake Vacek, reflects on the impact the ABC Leadership Forum made for him, "The forum is insightful, thought-provoking and helps you understand and control your number one asset, yourself. Linda does a great job giving you a path to take hold of how you perceive others and want to be perceived. Her direct approach not only altered my attitude about my position in the industry, but motivated me to push for what's next, what's bigger, what's better. It was an extremely worthwhile experience and one that I am very fortunate to have been a part of."