Cold weather, hard concrete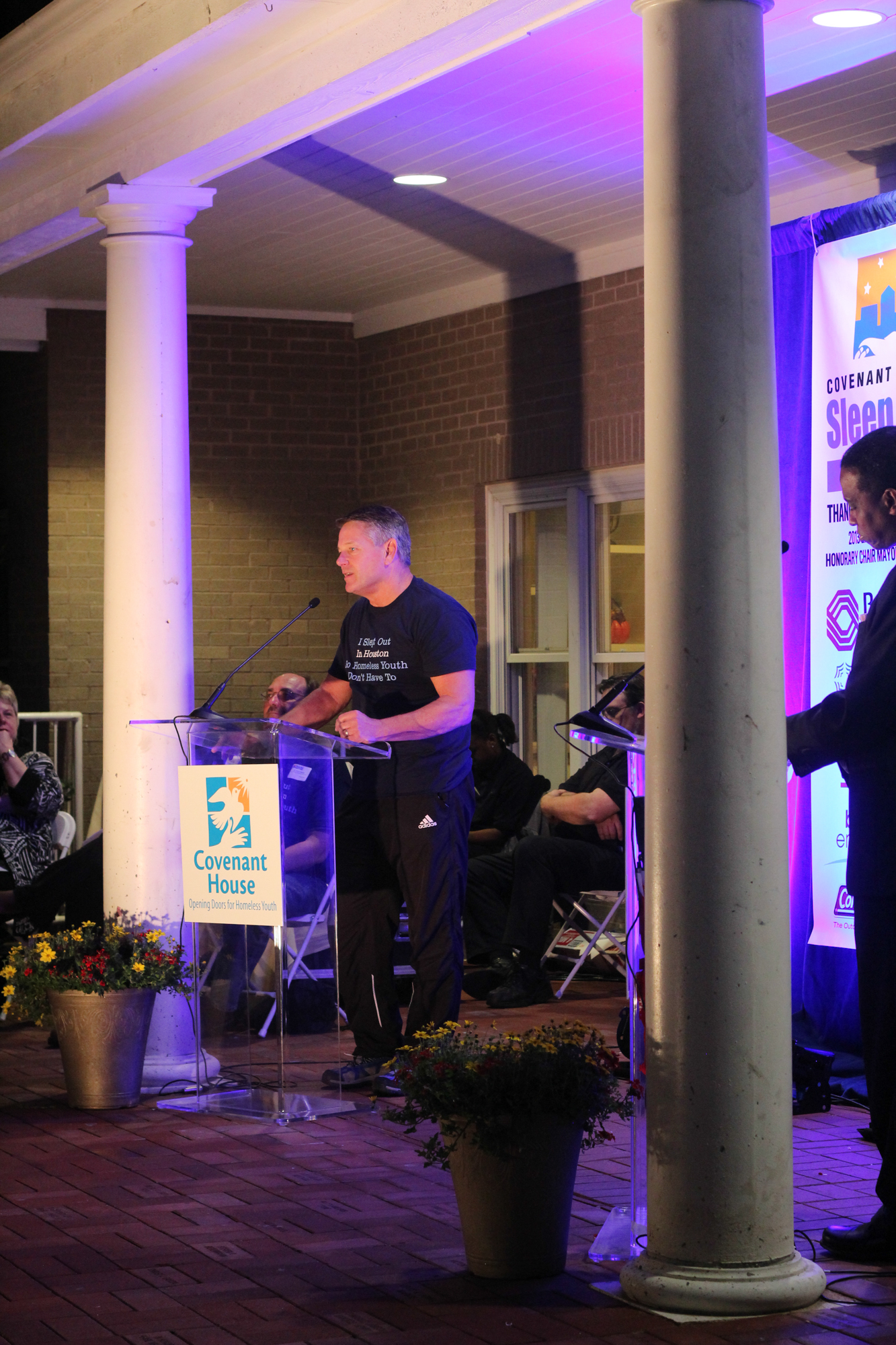 On Thursday, November 21st, of this year I, along with 50 other executives, "slept out" on the grounds of the Covenant House, a homeless shelter for kids, to help raise awareness and much needed funds. For me, it was the second time to participate in this wonderful and transformative event. I was introduced to this by a good friend Kurt Nondorf, who has served on the Covenant board for several years. Admittedly, when Kurt first asked me, I really did not know what I had agreed to. I just did it because I trust him, and if he thought it was important, then I was willing to do whatever he asked.
With a little help from my assistant Whitney, and the Covenant House staff, I soon had a fund raising page up on the Covenant website, and after a few e-mails and calls, the money started rolling in. I was surprised at the amount of passion and interest in the plight of the homeless, but my own level of concern was yet to be determined.
What an experience the Sleep Out turned out to be! The evening began with the "intake process", where homeless youth are interviewed and introduced to the staff and facility. Each of us "sleepers" experienced the intake process, similar to what a young man or woman would when entering the Covenant House. After some fellowship, a candlelight vigil was held, which was mc'd by Khambrel Marshall of Houston's KHOU TV. This being the Covenant House's 30th anniversary, Houston Mayor Annise Parker stopped by for some brief comments and to present a proclamation in honor of the Covenant House. We heard from two youth who were current and former residents of the House about how the Covenant House staff and experience had most likely saved their lives, and at the least, had turned them around. To hear their stories of family rejection, substance and physical abuse, and abandonment were truly devastating. Board chair John Sarvadi (JP Morgan Chase Bank) also spoke, and then I was asked to comment on the perspective of a non-board member who had slept out previously.
My thoughts and comments were short and simple. I first agreed to do this to support a friend. What I learned about was the unbelievable commitment and passion of the Covenant House staff, who deal with heartbreaking stories no young man or woman should ever confront. God is truly working through these dedicated people, and they deserve our prayers and support. I also learned about the will of these young men and women who enter the Covenant House. The hopelessness they face before finding the love and caring at the Covenant House is overwhelming. I was amazed at their ability to persevere, and to turn their lives around, given a simple helping hand and some compassion. I came to "sleep out" again because I wanted to "sleep with the giants", those kids and staff who experience every single day what most of us only have nightmares about. My experience is about honoring them.
After the vigil and some refreshments, we piled into vans and buses to drive through the city, looking for homeless people, where the Covenant staff knew they would be. We handed out food bags and hygiene kits, and learned from the staff about the perils of the street for the homeless youth. The streets of Houston are no place for a kid to call home.
We returned to the House to experience some roundtable discussions with current residents, who explained how they arrived at the House and their personal stories, a chilling reminder of the effects of the street and broken families on our youth and their futures. It was very difficult for these young folks to express themselves, especially to a group of strangers.
At 11:00, we all were given a sleeping bag and our choice of pieces of cardboard to sleep on. We all found a place in the parking lot to bed down for the night. We were warned of furry visitors on the grounds, and after some "buzzing" about the night's experience, the lights went out. Fortunately, the wind and rain associated with the pending cold front waited until about 30 minutes after we left to blow in. Otherwise our experience would have been even more realistic.
When you put your head on your soft pillow tonight, think about the possibility of one of your children sleeping on the street, without food or warmth, being preyed upon by other street people. What would you do to prevent that?
[[{"fid":"820","view_mode":"default","fields":{"format":"default","field_locations[und]":"_none","field_file_image_alt_text[und][0][value]":"","field_file_image_title_text[und][0][value]":"","field_image_tags[und]":""},"type":"media","attributes":{}}]]
[[{"fid":"832","view_mode":"default","fields":{"format":"default","field_locations[und]":"_none","field_file_image_alt_text[und][0][value]":"","field_file_image_title_text[und][0][value]":"","field_image_tags[und]":""},"type":"media","attributes":{}}]]
[[{"fid":"829","view_mode":"default","fields":{"format":"default","field_locations[und]":"_none","field_file_image_alt_text[und][0][value]":"","field_file_image_title_text[und][0][value]":"","field_image_tags[und]":""},"type":"media","attributes":{}}]]
[[{"fid":"821","view_mode":"default","fields":{"format":"default","field_locations[und]":"_none","field_file_image_alt_text[und][0][value]":"","field_file_image_title_text[und][0][value]":"","field_image_tags[und]":""},"type":"media","attributes":{}}]]
[[{"fid":"833","view_mode":"default","fields":{"format":"default","field_locations[und]":"_none","field_file_image_alt_text[und][0][value]":"","field_file_image_title_text[und][0][value]":"","field_image_tags[und]":""},"type":"media","attributes":{}}]]
[[{"fid":"834","view_mode":"default","fields":{"format":"default","field_locations[und]":"_none","field_file_image_alt_text[und][0][value]":"","field_file_image_title_text[und][0][value]":"","field_image_tags[und]":""},"type":"media","attributes":{}}]]
[[{"fid":"823","view_mode":"default","fields":{"format":"default","field_locations[und]":"_none","field_file_image_alt_text[und][0][value]":"","field_file_image_title_text[und][0][value]":"","field_image_tags[und]":""},"type":"media","attributes":{}}]]
[[{"fid":"824","view_mode":"default","fields":{"format":"default","field_locations[und]":"_none","field_file_image_alt_text[und][0][value]":"","field_file_image_title_text[und][0][value]":"","field_image_tags[und]":""},"type":"media","attributes":{}}]]
[[{"fid":"828","view_mode":"default","fields":{"format":"default","field_locations[und]":"_none","field_file_image_alt_text[und][0][value]":"","field_file_image_title_text[und][0][value]":"","field_image_tags[und]":""},"type":"media","attributes":{}}]]