Download Project Profile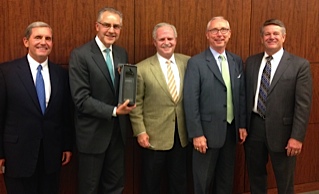 This business is just as much about the relationships we build over the decades as it is about the projects we build for our customers. Perhaps more so. After all, without those relationships, the projects for those customers would never go from concept to reality.
Each year at Marek, we pay tribute to select partnerships by honoring some of the most trusted and respected companies in construction. We host an annual dinner where we have, for years, honored a Supplier of the Year and a General Contractor of the Year. In 2014, we've added something new: An Architect of the Year.
Let's start there. Our Architect of the Year is Gensler. Formed in 1965 by M. Arthur Gensler, the firm now has 4500 professionals across 46 locations and works in 112 countries with almost 2500 clients in the last year alone. Gensler is widely recognized as the leading collaborative design firm on Earth, not just the largest.
Gensler is "organized around each client relationship. Client needs, expectations and strategy provide the context for every project we carry out together. Whatever their size, wherever our clients need us, we're set up to deliver."
Our decision to pay tribute to Gensler was an easy one. When we at Marek first started discussions about which architecture firm to choose, I ran the idea by Bill Scott at Linbeck. Upon hearing the idea, his immediate suggestion was Gensler.
The Marek team works alongside Gensler in multiple markets and we have collaborated on landmark projects in every city we serve. In recognition of their outstanding design work – and, we feel more importantly – their culture of excellence and partnership with all project team members, we were proud to name Gensler our 2014 Architect of the Year.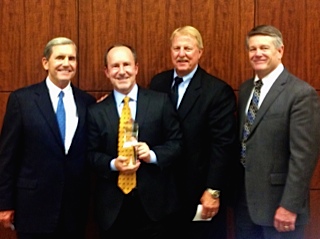 We have so many great suppliers and this choice is always a tough one. Our 2014 Supplier of the Year shares the kind of values we promote at Marek. ClarkDietrich Building Systems lives by the words "Together we are stronger than steel. Together we are stronger for our customers." ClarkDietrich does the right things and does things right. The company welcomes creative solutions from everyone. Positive energy and teamwork are paramount at ClarkDietrich.
ClarkDietrich offers a comprehensive lineup of steel construction products and services across the United States and abroad. Using cold-formed steel, the firm manufactures innovative products for interior framing, interior finishing, exterior framing and floor framing, as well as clips, connectors, metal lath and accessories.
Formed in 2011, ClarkDietrich engages in collaborations that increasingly involve efforts and expertise that support smarter installation and design, including BIM and ClarkDietrich Engineering Services LLC.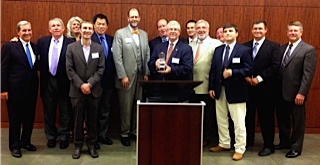 Last but not least is our General Contractor of the Year for 2014. Linbeck is one the leading contractors in Texas and the nation, and like Marek, celebrated their firm's 75th anniversary in 2013. Linbeck is a regional, state, and national trailblazer in serving for-profit and not-for-profit health care clients, specializing in academic medical centers, specialty healthcare, acute care facilities, outpatient facilities, and medical office buildings.
Linbeck is widely recognized as one of the top contractors in building performance venues, museums and exhibits. They've built such gems as the Bass Performance Hall in Fort Worth, the Fort Worth Modern Art Museum, the Crystal Bridges Museum of American Art, the Co-Cathedral of the Sacred Heart in Houston and the recent James Turrell exhibits at the Museum of Fine Arts Houston and Rice University.
They also serve the Academic, corporate/commercial, hotel/resorts, and mission critical sectors. Linbeck developed and copyrighted the collaborative TeamBuild process, was a founder of the Lean Construction Institute, and is one of the first builders to deploy Integrated Project Delivery, or IPD. For Marek, a partner like Linbeck, whose foundation is rooted in integrity and the belief in creating efficiency and value for their clients, is a perfect match.
Congratulations to all of this year's honorees.