Printer-friendly version
Download Project Profile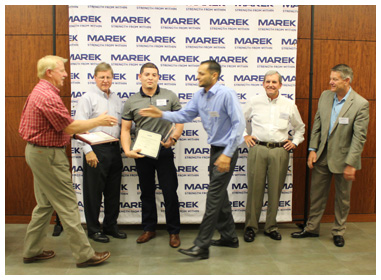 The following article was authored by Elizabeth McPherson and originally published on ConstructionCitizen.com.
A few weeks ago Marek held their 2015-2016 Workforce Development Graduation to recognize the accomplishments of those who had recently completed their in-house Helper, Mechanic, or Foreman training programs. The evening included a catered dinner for the graduates, their families, and their coaches; a keynote speaker; and a detailed introduction of each graduate highlighting what they learned and which of their coaches was the most influential to them in their training.

Two graduates from Marek's Helper program were Carlos Rivas and Josue Rosales, who had only worked for Marek for 9 months and one year, respectively.  I asked what each of them had most enjoyed learning during their training so far. For Rivas, it was learning to operate a boom lift.  This was also pointed out when his name was called to accept his graduation certificate.


Prior to coming to work for Marek, Rivas attended the University of Texas at San Antonio for a couple of years. He has worked on the Phillips 66 and MD Anderson projects during his time so far at Marek.  His goals include becoming a foreman with his own crew at Marek within the next five years, and ultimately to become a project manager for Marek.

Rosales said that what he enjoyed the most during the past year at Marek was learning to read blueprints and drawing layouts for buildings.  In addition to working for Marek, Rosales is also currently studying at the University of Houston. He appreciated the insight his training at Marek was giving him to go along with his college courses in Construction Management.  He said of his experience with Marek:

"It was a big step for me, working for this company."

I asked what had prompted each of these men to join the construction industry.  Both were encouraged by friends.  When Rosales was 15-years-old, a friend invited him to help work on a residential job.  Rosales was amazed to see an entire house built from the floor up to the roof. He said that his mind was lit up with amazement seeing how buildings are built.  Rivas got his start working in refineries, but when the oil and gas industry took an economic hit, he decided to look for construction work elsewhere, and a friend who already worked for Marek referred him to the company. Rivas said:

"Seeing a building go up, expanding the city, that's what caught my attention."


I also spoke with two people that I interviewed last summer when they graduated from the Helper program: Jeniffer Brown and Caleb Fitzgerald.  They were now both graduating from Marek's Mechanic program. I asked Brown what this graduation meant to her. She told me that it is another step up the career ladder.  She continued:

"This year there have been a lot of learning different tasks. It was a little bit hard, but at the same time it was exciting because you are learning new stuff."

I asked Fitzgerald what he had found the most challenging during the past year of training. He told me that for him it was the Advanced Blueprints Class. He said it was "pretty scary and intimidating at first." He did master the material, however, which he proved when he received the second highest score on the final exam. When I asked both of them what types of tasks they could now complete that they could not have been able to do last summer, Brown replied that now they were able to work on their own. She said that for some complicated tasks, they did still need supervision, but that there were many tasks that they are now able to do on their own. When I asked for some specific examples of jobs they had worked on during the past year, Fitzgerald said:

"This past year I got some experience helping run a job as a lead man – that was pretty exciting. It wasn't an official lead man position, but it was fun being able get the hang of it and to get some practice doing that." 


Brown would like to advance and become a Supervisor one day, saying "not yet, but we are on the career ladder."  She pointed out that Fitzgerald is closer to becoming a Supervisor now that he has been qualified as a "Coach." Now that Fitzgerald has completed the NCCER Core and has become Marek Coach Qualified, he plans to take more classes to continue to advance his career. His next class will be Front Line Supervision.

Finally, I spoke with Jaime Ramos who was being recognized that evening for being promoted to Foreman earlier this year. I asked him what he has liked best about working as a foreman. He told me:

"One of the things that I enjoy is that you get to a project, and there is nothing there.  And you leave the project, it is a finished product, and you have constructed something: a new building!"

Ramos had previous experience working for a company that did small construction jobs, but after working his way up through Marek's career training program where he learned how to do "tape and float" and other acoustical and drywall skills, he stated: "I did all my learning here at Marek."

Ramos was also given the opportunity to share his math skills when Marek encouraged him to become an NCCER instructor in Construction Math. Ramos said, "I was glad to help out as much as I could."

Ramos explained to me the importance of knowing how to work with fractions is in construction. He told me that whenever you do a layout or read a blueprint, it is very important to be able to add and subtract fractions.

You can watch more of these interviews in the 7-minute video below: