Download Project Profile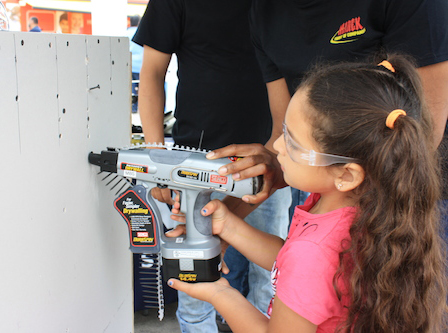 What a great day April 11th was! Three of Marek's trainees from the Workforce Development Program and Houston Workforce Development Head Coach spent the day at Houston Independent School District's "When I Grow Up Career Expo". There were over one hundred companies, schools, and community organizations that had booths to give students a look and get hands-on experience in careers that are available today. More than five thousand students and parents participated in the event.
Trainees Caleb Fitzpatrick, Monique Ford, and Dimarco Kunnus were excited to work with the students as they visited the Marek Booth. Each visitor had an opportunity to apply screws into a gypsum wallboard panel (sheetrock on metal studs) with a Senco Automatic Screwgun. The children were amazed and excited to operate a tool that is used to put together the walls and ceilings in many of the high rise buildings around Houston. Many of the children did not want to put the screwgun down once they successfully installed some screws in the wallboard panel. Looks like future Marek craftsmen! Head Coach Aurelio Flores spent the day talking with older students and parents about the career opportunities in the commercial interior construction trades for students as they graduate high school and enter the job market.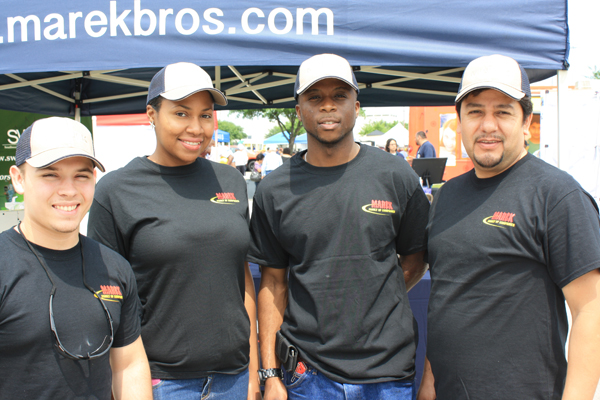 Pictured, from left to right: Caleb Fitzpatrick, Monique Ford, Dimarco Kunnus, and Aurelio Flores
Dana Sturdevant, Career and Technical Education Manager at HISD, said in recap after the event:
"As a learning event for all, the When I Grow Up Career Expo seeks to provide interactive, hands on career exploration experiences, and because of your hard work our community was able to explore new ideas and careers, possibly for the first time. I am certain that our students and parents alike left the Expo with a great deal of knowledge gained about many career and educational opportunities that they may have not have fully understood or were unaware of before this experience."
Take a look at the HISD video from this event. 
We cannot wait until next year's event. Fantastic job by all involved.