Printer-friendly version
Download Project Profile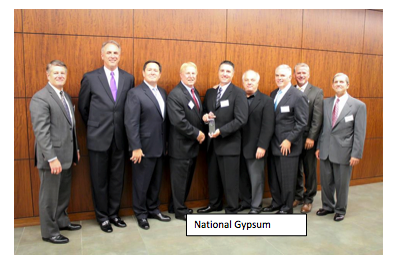 On August 21, 2015, Marek recognized our outstanding partners in the industry for 2015. Each year, Marek awards a General Contractor, Architect, and Supplier, Vendor, and Manufacturer of the Year to honor our partners whose work quality, professionalism, and innovation demonstrate the integrity each company brings to the entire construction industry. This year, we are excited to celebrate Vaughn Construction as 2015 Contractor of the Year, Kirksey as our 2015 Architect of the Year, and National Gypsum as our 2015 Supplier of the year. The dinner started with cocktails, which gave us a chance to meet and mingle with our honored attendees. Dinner consisted of chicken and salmon over a bed of rice and a salad. Once dinner was over, a small presentation was given to each of our honorees.
The first award was presented by Marek Vice President Paul Marek to National Gypsum. Paul spoke about the longevity of the Marek/National Gypsum relationship. Our guests came a long way to attend our award ceremony and we couldn't have been more honored to have them. Upon receipt of their award, John Corsi with National Gypsum had this to say, "We're from Charlotte, we're the out of town recipients, and to walk into this building and feel the warm reception we've gotten tonight, and to see a sense of pride, of family, of integrity, that's why this means so much to us. We share such a common bond and respect with a great culture, so thank you. We look forward to having another great year next year."
Our second award was presented by Marek COO Mike Holland to Kirksey Architects. Mike Holland said of Kirksey, "When I think about Kirksey, I think about a great big mine of innovation and sustainability. This is a firm that is growing really fast, but they've built around a very good foundation of leaders."
John Kirskey said, "We are all blessed to be in Houston, Texas. We as a firm are blessed to have allies like Marek and Vaughn. So my toast for the evening is here's to many more years of us collaborating and working together with such a positive relationship that we enjoyed through the years. Thank you very much."
Our final award of the night was presented by Marek COO Mike Holland to Vaughn Construction, our Contractor of the Year. Mike summed up Vaughn Construction with 3 F's: "Fair - They're fair, and they believe in being fair. Firm - They're firm, and if firm is telling you you're wrong, then he (Joe) knew he didn't need to tell you, and if firm was getting your rear end in gear, then he'd tell you, and he'd tell the others if they needed that. Field-oriented - That is part of what Vaughn is."
When Tom Vaughn received the award he said, "As difficult as this business can be, if you take care of the customers, if you take care of your people, and if you're fair with your subcontractors and suppliers, it's going to work out. Nobody does that better than the Marek organization, so we admire you guys, and we hope to be like you. We appreciate the recognition and support."
Marek would not be where we are today without the relationships we value and nurture.