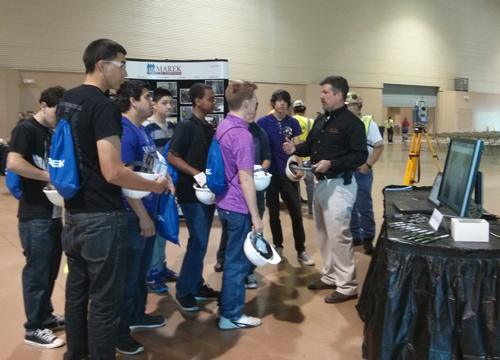 October's "Careers in Construction" month is quickly approaching, and you may wonder what you can do during this time to bring awareness to the trades. You have an entire month to find activities, to get out, and to get involved.
As someone who loves to bring awareness to the trades, one of my favorite activities is to get in front of a group of students and talk about Marek and our particular trades.
When time allows, we do hands on demonstrations in the classrooms to get students involved and to make the activities more interesting. No one knows our trade better than us; so who better to show the students and to talk about it?
Getting to know the instructors, administrators and students is one of the most effective ways to bring awareness to our industry. We are creating partnerships with the schools and becoming a resource for them to reach out to. They call on us to speak with their students, help them with their projects, and then later down the road, they call us to let us know when they have a student who is interested in a career.
We have several employees who came to start their careers with us because of these partnerships, and they are doing great. One of our first recruits is now in his mid 20's and is a foreman. Another has impressed us so much that he is now a project manager trainee. I truly enjoy being an advocate for the construction industry and seeing each of our recruit's success.