Printer-friendly version
Download Project Profile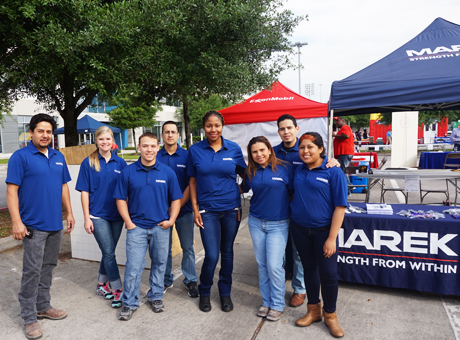 Have you ever been asked what you wanted to be when you grow up? When you answered, were you encouraged to explore these opportunities? Were your options limitless? On Saturday, April 9th, Houston ISD students did just that. Students ranging from kindergarten to seniors in high school were able to explore career opportunities and picture themselves at the midst of the question, what do I want to be when I grow up?
Marek was just one of over 100 inspiring exhibitors represented at the expo. Members of Marek's Workforce Development Program worked with students of all ages throughout the day. Marek's exhibit allowed students to see themselves as employees of the construction industry through a variety of stations. The highly-demanded screw gun competition allowed students of all ages to try out the cordless screw guns and offered friendly competition. The younger crowd enjoyed the PPE Model Station where students were able to try on a variety of personal protection equipment and learn the importance of items such as safety glasses, vests, hardhats and gloves. Students tested their math skills at the tape measure station where they identified a series of measurements.
Students exuded excitement as they walked the many aisles of the exposition. The impressions made by the Marek crew were nothing less than impressive and impactful as they were doing what they do best. Go ahead, answer the question: What do you want to be when you grow up? Are you doing it, being it, living it?