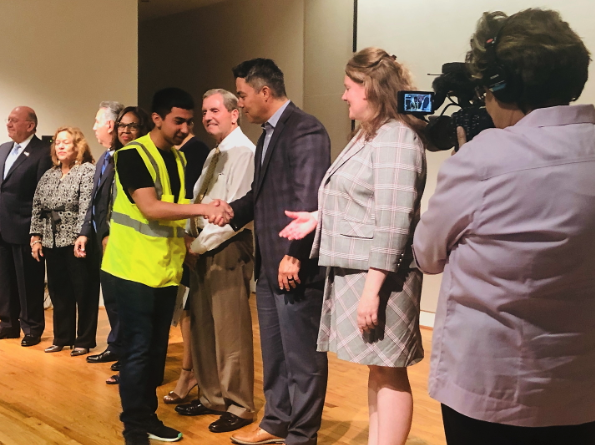 The following post was published in the HISD blog regarding the commitment ceremony that was held recently for dozens of Houston students in a new dual credit, two-year construction certification program at Houston Community College:
As a young boy, Jorge Rubio, a sophomore at HISD's Austin High School, idolized his father and dreamed of one day following in his footsteps. Now, thanks to a new CTE partnership, Jorge has a chance to live out his dream.
Jorge, along with 24 other students from Austin and Milby High Schools, participated in a commitment ceremony on Wednesday at HCC's Southeast Campus for the district's new dual credit, two-year construction certification program in partnership with MAREK, a specialty construction company.
"This opportunity means a lot to me and my parents," Jorge said. "My dad is a construction worker and he is my inspiration."
Students in the new Marek Construction Academy currently spend a portion of their instructional day at HCC's Southeast Campus, where they learn general construction skills from a former MAREK field supervisor, who has over 35 years of experience and is a certified drywall craft instructor.
During the ceremony, the cohort of 25 students, stepped on stage and handed in their commitment paperwork before receiving their first MAREK-branded construction hat. HISD Interim Superintendent Grenita Lathan, who also received an honorary hard hat with her name emblazoned on the front, congratulated the students for being the first participants in the program.
"You are trendsetters, carving out a path for future participants," she said. "By the end of this journey, not only will you leave this program with construction certification, you will have an incredible head start in life."
The students will work as paid interns at MAREK during the summer of 2020. By the time they graduate high school in 2021, they will have obtained a Level I certificate from HCC, drywall credentials and they will have job offers in hand from MAREK.
"I congratulate all of you for seizing this opportunity," Marek Managing Director Jorge Rodriguez said. "We are not offering you a job, we are offering you a career."
The ceremony not only honored the students' commitment to undertaking a career in construction, but also their commitment to a career with MAREK, and Jorge is looking forward to his future with the company.
"I look forward to working with MAREK and growing with this company," he said. "I can't wait to learn how to build things and see how my skills can help our economy."