Printer-friendly version
Download Project Profile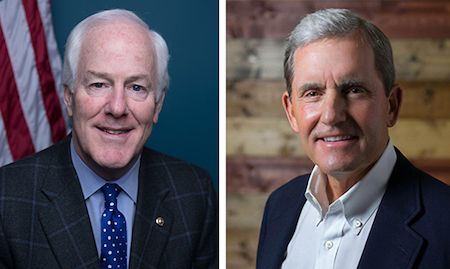 Originally published by TexasGOPVote on July 12, 2021.
Dear Senator John Cornyn,
I am choosing to publicly respond to your press release from July 6, 2021 because there are 204,000 Dreamers brought as children without proper documentation by their parents living in Texas. Their lives hang in the balance.
You have spoken publicly about leading on bipartisan solutions to our immigration challenges. You worked carefully with Democratic Senator Kyrsten Sinema and filed a bipartisan bill to address the challenges at the border. I applaud you for these efforts. You have promised to work on a clean bill for Dreamers as a way to move the immigration debate forward. But we shouldn't stop at the Dreamers. Their parents - the 11 million undocumented immigrants- worked through the pandemic and kept America going. They also deserve legal status allowing them to raise and support not only the Dreamers, but also the over 5 million American-born kids with undocumented parents, both of whom are our nation's future workforce.
Now back to the Dreamers. I believe you promised to work on a clean bill for the Dreamers because there is overwhelming support for them in both parties, including a majority of Texas voters. Dreamers contribute to the Texas economy, paying $963 million in local, state, and federal taxes and wielding $3.2 billion in spending power. 8,724 Texas Dreamers owned businesses and created jobs in 2019. Moreover, almost no one in this country believes children should be punished for the decisions of their parents.
These reasons are why I am deeply disappointed over your decision to use a press release to announce, along with Senator Thom Tillis, your challenge to Senator Durbin to have a public markup of a measure that would cover only a portion of our state's Dreamers. Your proposal would cover only those currently with DACA and a number of Dreamers well below the threshold of where the majority of Americans think it should be. In addition, numerous 'poison pills' from the Republican immigration wish list should be negotiated, not dictated. The press release offers little hope for compromise, and I hope your statement does not endanger the futures of the millions of Dreamers clinging to their hope for the American Dream.
A few months ago, you negotiated and developed a bipartisan border compromise with Senator Sinema. This bill is very timely and needs to be passed by Congress. In contrast, your press release was not developed with Senator Durbin or another Democrat. Negotiating through a press release may jeopardize the success of a vital proposal for our Dreamers.
In fact, there is already an existing, bipartisan proposal that was carefully crafted and introduced by Senators Dick Durbin and Lindsey Graham on February 4, 2021. The Durbin/Graham Dream Act of 2021 should be the starting point of any honest negotiations. And please let me emphasize "starting point."  Your bipartisan border bill is crucial, and by combining it with the bipartisan Durbin/Graham Dream Act, a deal can be made.
As our senior U.S. senator from Texas who has 19 years of congressional experience and reportedly aspires to succeed Senator Mitch McConnell as Republican leader of the Senate, you obviously know what it takes to get a deal done in the Senate. This is an opportunity to reach a compromise that's vital for Texas and important for the entire nation.
Texas Dreamers, our state's Hispanics (almost 40% of the Texas population), businesses that depend on immigrant workers, and your own integrity deserve getting this over the finish line.
Sincerely,
Stan Marek
President & CEO of MAREK